Most people take their supplements whenever is convenient, but some nutrients work best at certain times of day. Here's when to take some of our best-selling supplements.
First things first: find a routine
Although diet should always come first, your vitamin and mineral supplements are designed to be taken every day to supply a recommended daily amount as a nutritional safety net.
This helps to ensure your metabolism keeps running smoothly, the correct level of enzymes, hormones and structural proteins are made and worn out cells replaced on a daily basis.
Top tips
If you're struggling to maintain a supplement routine, try the following top tips:
Put them in a place you will remember them e.g. bathroom cabinet, by your bed or next to your breakfast cereal (but out of the reach of any small children).
Set a reminder on your watch, phone or computer.
At the end of the day, remember that it's better to take your supplements at any time than not at all.
When to take your supplements
Morning

,

noon

or

night

?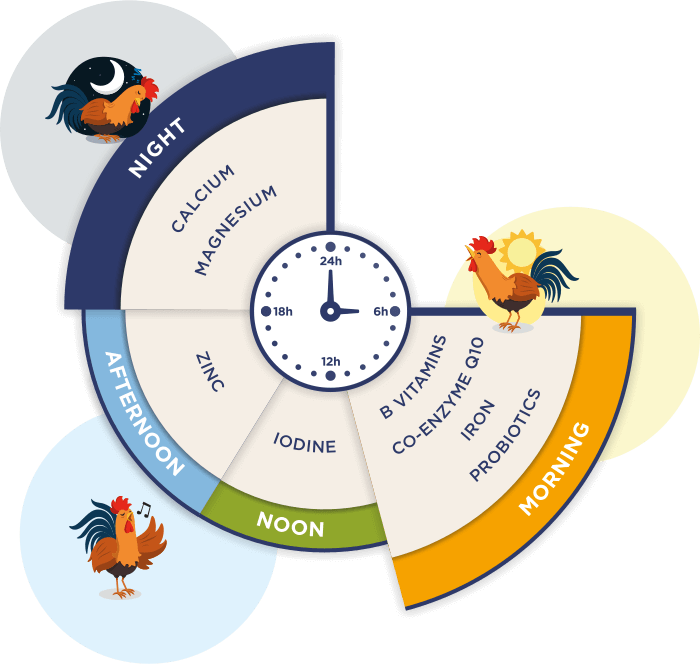 In the morning, take...
Proven to support attention and mental performance. Vitamin B12 helps to reduce fatigue.
Involved in the production of energy, often referred to as the 'biochemical spark plug.' Ideally taken with breakfast or lunch and avoid taking before you go to bed.
Contributes to normal formation of red blood cells and haemoglobin. Best taken in the morning after breakfast. Avoid taking with tea or coffee as the caffeine tannins can affect absorption.
Contain bacterial strains that are natural residents of the human digestive system and support the protective intestinal microflora naturally found in the gut. Helps to take these in the morning when the bowel is more receptive.
In the afternoon, take...
Iodine
Provides support for normal cognitive function and maintenance of the skin. Iodine cannot be stored within the body and so a regular intake is needed. Best taken at midday.
Contributes to the normal function of the immune system, fertility and reproductive systems. Take in the afternoon with food as it can cause nausea if taken on an empty stomach.
At night, take...
Needed for the maintenance of normal bones and contributes to normal muscle function. Many suggest taking calcium in the evening because it is best used at night and contributes to normal muscle function.
Contributes to the maintenance of normal bone, teeth and muscle function, including the heart. Studies have shown that magnesium is a relaxant so take this in the evening before you go to bed.
Supplements that can be taken at any time...
Some of our bestselling supplements can be taken at any point during the day – but there are still ways that you can ensure you're getting the best results.
Contributes to the reduction of tiredness and fatigue. Best taken in split doses.
Helps with the maintenance of normal bones and teeth and best taken with a meal.
Contribute to the maintenance of normal brain function and help to maintain normal vision. Best taken with a meal to aid absorption.